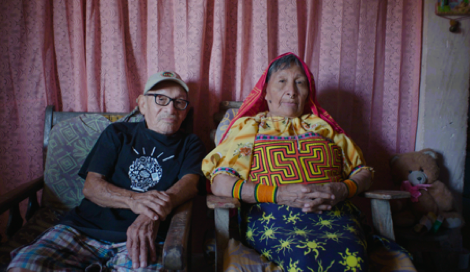 EN PRODUCTION
Une coproduction Industrie Films & Upside Films, France
P.S. Productions, Suisse
Avec l'aide de Cinéforom et le soutien de la Loterie Romande
Ventes internationales: Pyramide Films
DIEU EST UNE FEMME
Documentaire cinéma – 2023 – 80 min. France/Suisse
V.O Français/Espagnol
En 1975, Pierre-Dominique Gaisseau, cinéaste oscarisé, s'envole pour le Panama avec sa fille de quatre ans, Akiko, pour filmer une tribu matrilocale : les Kunas. Confisqué par une banque, le film ne sera jamais diffusé, pas même aux Kunas qui réclament depuis une copie promise par le réalisateur.
45 ans après le tournage, Duiren, un jeune cinéaste kuna, reprend le flambeau des mains de son mentor, Turpana, poète et assistant de Gaisseau, qui a passé sa vie sur la trace de ce film disparu.Il remonte le fil rouge de cette histoire cachée du cinéma qui le mènera jusqu'à Akiko et la pellicule cachée dans une cave à Paris. Ensemble, ils feront enfin découvrir aux Kunas ce trésor cinématographique devenu mythique à leurs yeux.
Andres Peyrot
Andres Peyrot is a Swiss director. In 2010, his short film Bruja, shot amongst the Embera indigenous community, won Best Film at the HAYAH Film Fest in Panama. The following year, he was cinematographer for Jonathan Caouette's film Walk Away Renee, which was presented during the Semaine de la Critique at the 2011 Cannes Film Festival. Andres has since directed the photography of numerous documentaries broadcast on French channels like Cine+, Toute l'Histoire (AB), and Arte Creative. In 2014, he was co-director with Pierre-Paul Puljiz of a documentary on the golden age of Lucha Libre cinema in Mexico, El cine enmascarado. In 2015, he cowrote a webseries for France Télévisions, La Sante Meurte, Vierge des oubliés, that plunges into the Saint of Death "cult" that unites Mexico's outcasts and renegades. Andres is currently the co-author of Intramuros, a feature length documentary film shot entirely within a prison in Brussels. For this project, he's in collaboration with the RTBF and has received a writing grant from France's CNC. Andres earned his degree in film from Tisch School of the Arts of New York University (NYU) and his Masters D2A from the Sorbonne, in Paris.